It's common practice for pubs on campus to have specials on certain days of the week. Everyone on campus knows club x is having a special on Monday nights and club Y a special on Wednesday nights. So we thought, let's do the same, and let it be known that Checkers will be having, not student nights, but student days. The Checkers Freebie Fest was born and Mondays, Wednesdays and Fridays chosen as the designated 'student days'.  
After a heavy weekend's partying students' wallets, together with their stomachs, are empty. This is the ideal opportunity to offer food freebies, hence, 'Grub Monday' where we offer students a 'buy 1 get 2 free' on the cornerstone of their diet: 2-minute noodles.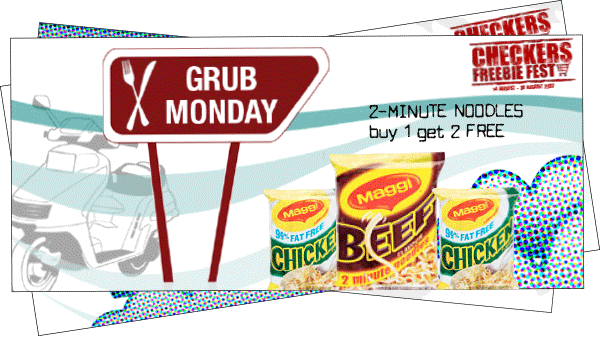 Airtime is a sought after, yet, very expensive commodity in the world of students and the middle of the week a good time to offer them 10% off airtime across all networks. Or, better yet, 10% free airtime.
FUEL FRIDAY
Friday night is party night on campus. For a night on the town students need energy and this is why we offer them a free energy drink for every one bought on 'Fuel Friday'.